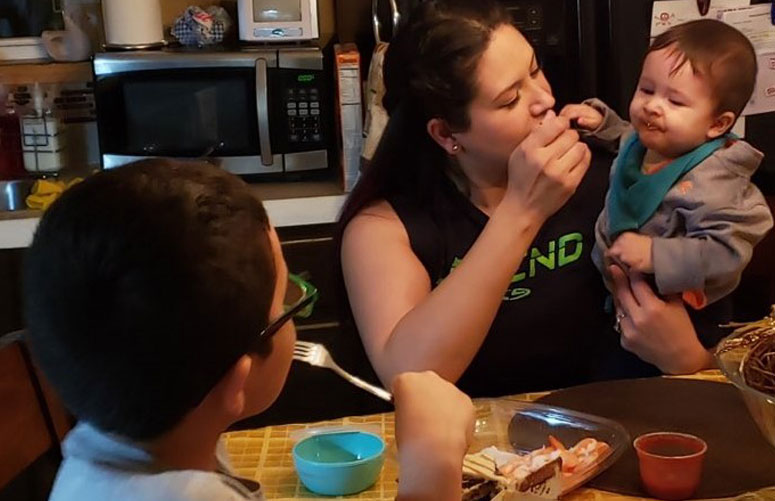 Nearly three years ago, Diana and Israel's son Andrew, now 9, came home excited about a new development at school. HCS Family Services had opened a food pantry in his elementary school. The food pantry was open to families who could use some extra help – something he thought his mom and dad might be in need of.
Although the couple works, Diana and Israel find it difficult to make ends meet.
"We struggle paycheck to paycheck," Diana said.
They are not alone. Various recent studies have concluded that more than 50 percent of American adults are facing similar situations.
Like many families, the rent and the utilities came first. Diana and Israel had to be strategic with how the remainder was spent on food for their family, which, in addition to Andrew, includes an older daughter, and an infant son.
"I'd have to alternate on the necessities. One week, I would buy milk but not eggs or cereal. The next week, I'd buy eggs and cereal but not milk," Diana said.
It was Andrew, just in first grade at the time, who recognized an opportunity when he learned about the food pantry at school. "When Andrew told me a food pantry had opened at school, he said, 'maybe we can get milk there, since we can't buy it this week,'" Diana said.
While it was emotionally difficult for Diana, who was raised to be self-reliant, to seek help, she immediately felt welcomed by the cheerfulness of the staff and volunteers.
"The volunteers care about you, ask you how you are doing, and are genuinely concerned," she said.
Diana was surprised at the variety of the food pantry's offerings.
"We can get all the essentials – milk, eggs, bread, fruit and vegetables – and things that are healthy, nutritious foods," she said.
Having the food pantry in the community "is such a blessing. I am so grateful for all who donate and want to help others in need." To help families like Diana's, please consider making a donation today.